Code Enforcement
Hours by appointment
(518)756-6671, Ext 6, 1
(518)801-6693
Code Enforcement Officer: Allan Jourdin
Helpful links and PDF Files available for download
REVISED TOWN FEE SCHEDULE
Resolution 175-2016
October 24, 2016
BUILDING FEES
One and Two Family Homes
(New Homes and Additions)
$25 Per 100 sq. ft. floor area
Non-residential or Combined Use
$35 Per 100 sq. ft. floor area
Utilities (permitted towers, substations, etc.)
$1,500 up to 3,000 sq. ft.,
$35 per 100 sq. ft. over 3,000 sq. ft.

Renovations (where building permit is

required)

$150
Garages
$20 per 100 sq. ft. floor area
Decks and Porches
$75
Chimneys, Wood Stoves and Gas Heaters
$40
Mobile Homes - Single
$150
Mobile Homes - Double Wide
$225
Demolition Permits
$75
Swimming Pools - Above Ground
$60
Swimming Pools - In Ground
$100
Sheds 144 sq. ft. and up to 300 sq. ft.
$25
Sheds over 300 sq. ft.
$20 per 100 sq. ft. floor
Solar Residential
$50
Solar Commercial
$0.36 per sq. ft. of panel
SEWAGE DISPOSAL FEES
Septic Systems - New

(Profesional Engineering Perc Test and Design Required by New York State Department of Health)

No Fee
Septic System Replacement or Repair
$40
Sewer Hookup to Town Sewer District:
Hookup and Inspection
$75
Sewer Repair Inspection
$40
Fitting (if needed)
$30
EXCAVATION FEES
Culverts Under Driveways

(Highway Dept. Inspection)

$35

Culverts Across Roads

(Highway Dept. Inspection)

$100
ZONING AND PLANNING FEES
Planned Development District Application Fee
(Inc. 10 Acres)
$500
Over 10 Acres and Under 25 Acres
Add $125/Acre
Over 25 Acres and Under 50 Acres
Add $100/Acre

Over 50 Acres

Add $75/Acre
Amendment to the Planned Development District
One-Half of the Original Fee
Conservation Lands will be excluded from the Acreage calculations
| | |
| --- | --- |
| Special Use Permit or Variance - Non-Commercial | $40 |
| Special Use Permit or Variance - Commercial Use | $200 |
| Renewable Special Use Permit or Variance - Commercial Use* | $100 |
*Any other annual town fees associated with the commercial use of the property will be waived upon payment of the fee for Renewable Use Permit or Variance.
| | |
| --- | --- |
| Site Plan Review - Up to 10 Acres | $300 |
| Site Plan Review - 10 Acres and Less Than 25 | $1,000 |
| Site Plan Review - 25 Acres and Less Than 50 | $2,000 |
| Site Plan Review - 50 Acres | $4,000 |
| Site Plan Review - Renewal | One-Half of the Original Fee |
(Undeveloped Lands Will Be Excluded From the Acreage Calculations)
Subdivision Application - Minor Subdivision
$30 per lot
Subdivision Application - Major Subdivision
$100 plus $30 per lot for initial application;
$50 plus $10 per lot for Final Plat approval
Lot Line Adjustment
$50
MISCELLANEOUS FEES
Building Permit Renewal
One-Half of Original Permit Cost
Temporary Certificate of Occupancy
$10
Certificate of Occupancy Search / Prior to Zoning
$15
Certified Copies / Genealogy Searches
$10
Park Usage (day usage)
$25 plus a refundable $25 deposit,
returned if park is left in good condition following inspection
Festivals or Public Gatherings
$5
Beer Permits
$20
Dog License - Spayed or Neutered
$7
Dog License - Unspayed / Unneutered
$15
Dog License - Late fee (if not renewed within 30 days of expiration)
$5
Dog License - Tag Replacement
$2
Signs subject to Sign Ordinance
Fee will be waived if sign permit is part of a site plan approval
$25
Billboards
$50
Photocopies, letter or legal
$0.25
Copies of electronic media
$3
Copies of Engineering Prints
$5
document Pavilion Rental Information and Reservation Form (347 KB)
document 2020 Summer Recreation Program Participant Registration Form (22 KB)
pdf Summer Recreation Program Medical Release Form (45 KB)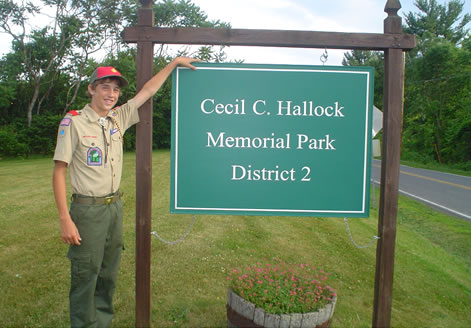 Zeb Girvin stands next to the new District 2 New Baltimore Town Park sign that he made for his Community Service Project needed to achieve the rank of Star Scout.
View Slide Show of 2008 Summer Program
Silver Lake Park
Located on Old Kings Road in Medway, Silver Lake Park offers a large pavilion, utility building with electric, and baseball field.
Cecil C. Hallock Memorial Park
Located on Route 54 just west of the Town Hall, Hallock Park offers a large pavilion, electric and water, and playground.
Cornell Park
Located on the Hudson River in the Historical Hamlet of New Baltimore, Cornell Park is a popular gathering spot in the Town.
Wyche Park
Located on New Baltimore Road in the Hamlet of New Baltimore, Wyche Park offers a large pavilion.
For information on renting the Park facilities, please contact the Town Clerk's Office at (518)756-6671, Ext. 5 for availability and other information.
New Baltimore Pavilion Rental Information
Cecil C. Hallock Memorial Park has water and electric, Silver Lake Park has electric, and are available to town residents for use for family reunions, birthday parties or other social gatherings.
To reserve and rent a Town pavilion, please submit a Park Rental Form (below) to the Town Clerk for the date and Spark desired. A rental fee of $25.00 is required, plus a $25 refundable deposit that is returned following cleanup. Charitable organizations can apply for waiver of this fee, in writing, Please address your request to the Town Board.

document Pavilion Rental Information and Reservation Form (101 KB)
The New Baltimore Summer Youth Program
The New Baltimore Summer Youth Program is an annual favorite for New Baltimore's children with many fun activities (see recent Youth Program Schedule of Events below). Children must be 5 years of age or older. Locations of the program can vary from park to park each year. Program hours are 9:00 a.m. to 11:30 p.m.
Every Spring, usually in May, in preparation for the Summer Youth Program, the Town announces job openings for high school students who live in our town to work as park counselors for the 4-week summer program. Watch this website for more information or write or call our Parks Director, Desirea Chamberlin, c/o the Town Clerk.
Download PDF files
Archive:
2006 Picture Slide Show
Town Offices
3809 County Route 51
Hannacroix, NY 12087
Phone: (518) 756-6671
Ext. 2: Tax Collector, Diane Jordan
Ext. 5: Town Clerk, Barb Finke
Ext. 6: Zoning/Planning/Building, Allan Jourdin & Marjorie Loux
Ext. 7: Town Supervisor, Jeff Ruso
Ext. 8: Assessor, Justin Maxwell
Fax: (518) 756-8880
Highway Superintendent
Phone: (518) 756-2078
Fax: (518) 756-3078
Town Court
Phone: 518.756.2079
Justices Huff and Melewski, Kimberly Ruby/Lynne Layman-Wallace
Greene County Sheriff
Phone: (518) 756-3300